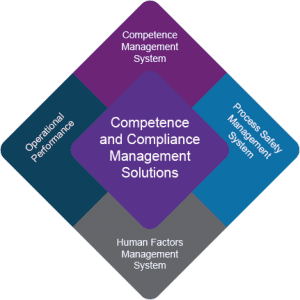 Competent support solutions to help high hazard industry maintain their 'License to Operate'

Industry has experienced a human factors nightmare over the last year and now, regulators are preparing to increase their inspections
.
Cogent Skills is delighted to announce the expansion of it's Competence and Compliance Management consultancy solutions for worldwide leaders of high hazard businesses – to help maintain their 'License to Operate' and enable their employees 'sleep well tonight'.
Download the Consultancy Brochure
To celebrate this market introduction, there is an offer worth £600 for each new customer, running until 30 September 2021. More offer details at the bottom of this article
Our consultancy services will Review, Design, Implement and Benchmark business' policy and procedures systems relating to:
Competence Management
Human Factors
Operational Performance
Process Safety Management
These newly extended services align to Cogent Skills' core values of delivering 'Best in Class' solutions, addressing strategic skills issues for the science industries.
For customers, the services will not only help with compliance, the implementation of 'best practice', risk reduction of accidental shutdowns / business loss and reduction of human error but will also help to reduce long term costs.
Following regulator's delivery guidance, our industry expert consultants work with business leaders to develop COMAH / Seveso III compliant management systems, designed to improve the skills of internal specialists – so that the business becomes self-sufficient. This means employers will not need to spend more money in the future, by bringing in other policy and procedures consultants
The HSE have previously identified Human Factors and Competence Management as suboptimal and have put together an inspection regime to investigate compliance. We know that inspectors need businesses to demonstrate that they have access to competent support, which can be an internal or external resource. We are delighted to officially announce that Cogent Skills can provide global employers with this accredited, external expert resource
Neil Smith, Head of Workforce Development, Cogent Skills
As our key workers heroically battled through the recent Brexit and Covid turmoil, many business leaders realise they need to put investment into policy and procedures system updates, business improvement projects and employee development initiatives.
Right now, employers are ramping up improvements to their management safety systems, workforce competency, business and operational performance plans. We are delighted to be currently working with industry employers, who are needing to:
Improve their business and operational performance
Review and develop management systems to comply with high hazard regulatory requirements
Prepare for regulator inspections
Support their workforce
We totally understand that managing your compliance requirements may be time consuming, stressful or even a step into the unsure or unknown? This is why we are introducing our consultancy services to the global market – for businesses to prepare for an inspector, improve their management systems and keep their license to operate.

We've been delivering our services to industry over the last five years, to organisations such as National Grid, Recipharm, Sterling Pharma, Baker Hughes, Johnson Matthey, Thermo Fisher, Unilever and Victrex. But, all of these projects have been gained through personal recommendation and we want to let everyone know about how we can help them!

We feel that the time is right now to formally extend our expert competent consultancy solutions, so that businesses can prepare to emerge – moving into a safer, prosperous and more productive, post-pandemic era.
Alex Slater, Head of Business Operations, Cogent Skills.
More Information
Cogent Skills is a not-for-profit organisation, with charitable status. As an independent strategic skills body, our consultancy solutions includes industry guidance and training standards, which have been collaboratively developed with regulators and science industry employers.
Cogent Skills facilitates the industry-led PSM Competence Programme Board and has an extensive understanding of Process Safety Management – to improve safety, compliance and business efficiencies.
Cogent Skills has extensive experience of delivering skills expertise to High Hazard industries. Since 2010, we have delivered services to:
over 20,000 employees
across 300+ businesses
Each of our expert consultants have between 30 to 45+ years' worth of industry experience. All projects adhere to the regulator's delivery guides and are underpinned by our published competence management guidelines and process safety management training standards which Cogent Skills developed with industry leaders and are recognised by the UK's Health and Safety Executive's COMAH / Seveso III authority.
A market introduction campaign worth £600 for each new customer is running from May to 30 September 2021. Sign up for a consultancy management project with an agreed project commencement by 31 October 2021 and customers can choose your FREE value add offer, of either an OECD Benchmarking (Process Safety Management) survey or a Half Day Review, relating to Competence Management, Human Factors Management or Process Safety Management.
Download the Consultancy Brochure
For more information 
Call us on: 07710 308628
Email us  [email protected]