Main Description
This is a fantastic opportunity to embark on a career in science and technology with a leading global company in the life sciences sector. Under the supervision of a shift leader, you will work as part of our dynamic operations team to produce or pack a range of generic and branded medicines to a consistently high standard.
Qualifications requirement

Minimum 5 GCSEs (or equivalent) at Grade 4 or above, including English, Mathematics and Science

Salary

£15,000 per annum (+ shift allowance of £5,371)

Apprentices could be eligible for annual wage increments, subject to company budgets and satisfactory completion of goals.

On completion of the apprenticeship, and if successful gaining employment at Accord, the starting wage on double days shift is currently £21,942 + £5,371 (shift) = £27,313 per Annum, rising to £26,256 + £5,371 (shift) = £31,627 on completion of the areas training programme.

Holiday Entitlement

25 days (plus statutory bank holidays)

Benefits

Cogent Skills offers a wide range of benefits to our employees, including:

Free on-site parking

Holiday entitlement (+ Bank Holidays)

Opt in pension scheme – Workplace Pension Scheme

Student discount card (NUS)

Employee Assistance Programme

Dedicated mentor for the duration of your Apprenticeship

Discount at Nuffield Health Fitness and Wellbeing Centres

Location

Barnstaple, Devon

Working Hours

Day shift working will apply. Shifts will be:




Monday to Thursday, 6am – 2pm, Fridays 6am – 12pm AND




Monday to Thursday, 2pm – 10pm and Fridays, 12pm – 6pm – Paid breaks




Shifts will alternate every other week i.e. one week of earlies followed by one week of lates. A shift allowance of £ 5,371.20 p.a. will be paid in addition to the basic salary

Duration

21 months

Start Date

ASAP

Interview Dates

December 2023

Closing date for applications

5th December 2023

To apply

To apply, fill in your information in the online form below. If you are having difficulty completing this, please contact [email protected]

Next Steps

Once the position has closed, shortlisted candidates will be invited to a one way video interview, you will have 3 days to complete it.
This will be reviewed by the Hiring Manager along with your application form to decide who is brought through to the final interview.

If you have any issues in applying, please contact us on [email protected]
JOB DESCRIPTION
Cogent Skills is working with Accord-UK Ltd to recruit four Apprentice Process Operators for its busy manufacturing site in Barnstaple, north Devon. The successful candidate will be employed by Cogent Skills Services but will undertake all on-job learning with Accord-UK Ltd.
Under the supervision of a shift leader, the Apprentice will work with a small team to produce or pack a range of generic and branded medicines top a consistently high standard.
By the end of the programme, the Apprentices will be able to:
work effectively within a team setting to ensure all delivery priorities are achieved to deadline

produce/pack our complete range of products to meet Quality Control, Good Manufacturing Process (GMP) and Environment, Health & Safety (EHS) standards and complete all documentation to a high standard through to sign-off

clean down, maintain and prepare own work area and equipment (including basic machine setting and fault finding)

replenish stock / supplies to ensure the smooth running of all operations

work in a safe manner at all times, closely observing all company safety rules and requirements, including proper use of protective clothing and equipment, and observing GMP and EHS policies

participate in training, continuous improvement and team briefing programmes to ensure we work effectively at all times (working with the Quality Project Teams, as required)

report any defects, process deviations or near misses immediately, assisting with repairs and improvements within your capabilities

support other production areas, as required
This is a fantastic opportunity to embark on a career with a leading global company within the life sciences sector.
ABOUT ACCORD HEALTHCARE
Accord Healthcare is a fast-growing global pharmaceutical company that develops, manufactures and distributes generic, biosimilar and added-value medicines in over 85 countries worldwide, helping to improve access for patients to essential pharmaceutical care at the point of need.
Accord's portfolio spans across critical therapeutic fields such as oncology, cardiology, neurology, psychiatry, diabetes, pain management and gastroenterology
By challenging the status quo and directly addressing unmet clinical and societal needs, Accord continuously strives to make things better by delivering high quality medicines to patients, quickly, economically, reliably and with great innovation.
As one of the fastest growing generic pharmaceutical companies in the UK & Ireland, we have an extensive supply chain through its two UK based manufacturing sites and the largest manufacturer-owned warehousing & distribution centre in the UK.
Our employees foster our enduring reputation for quality and integrity, supporting our primary goal of helping to ensure patients receive the medicines they need, when they need them, with patient well-being at the centre of everything we do.
We believe in creating a culture that 'achieves'. To support this, we are looking to build an inclusive company that attracts and retains key talent by investing in training and development, tailored to an individual's needs. We are looking for the best and brightest technical minds in pharmaceutical development, manufacture and distribution, as well as sharp, forward-thinking business professionals, to work for Accord Healthcare.
We offer opportunities for people who are looking for professional growth, to learn and develop their careers.
CANDIDATE REQUIREMENTS
Qualifications Required:
Minimum of 5 GCSEs (or equivalent qualifications) at grade 4 or above including Maths, English and Science
Skills Required:
Strong communication skills in written and spoken English

Analytical and methodical, with a keen eye for detail

Easily able to work with technical and numerical information

Good IT skills, with the ability to quickly learn new systems

Basic mechanical engineering skills, experience or aptitude
Personal Qualities:
Proactive, professional, reliable and respectful at all times

Proven ability to work on own initiative and within a team

Energetic individual who has a high level of personal pride in their work

Customer focused – dedicated to meeting the expectations and requirements of internal and external customers

Strong desire to learn, with a positive attitude and resilient to change

Good level of general health and wellbeing

Able to work in an enclosed, indoor environment
TRAINING TO BE DELIVERED
Level 2 Science Manufacturing Process Operative Apprenticeship Standard to be delivered by Cogent SSC. This Apprenticeship will involve 15–18-months of training, followed by 3 months for end point assessment. It will be delivered through a blended approach of online and in person training on the host employer's site in Barnstaple. The knowledge is delivered on MS Teams through live, interactive lessons, alongside monthly visits from an assessor to implement the knowledge learnt into the Apprentice's job role
FUTURE PROSPECTS
This role is part of our talent planning for the future and, for the right person, we are looking to continue to develop the Apprentice upon successful completion of the Apprenticeship.
Our business is growing, is fast paced and evolving so there may be the opportunity to gain permanent employment in the team as a Process Operator, subject to performance, successful completion of the Apprenticeship, and a role being available.
THINGS TO BE CONSIDERED
Cogent Skills is managing the recruitment process in partnership with Accord-UK Ltd. To ensure fairness and equality of opportunity all applications must be made by completing the application on the Cogent Skills Apprenticeship portal.
The successful candidate will be employed by Cogent Skills Services but will undertake all on-job learning with Accord-UK Ltd. at its manufacturing site in Barnstaple, north Devon.
There will be a requirement for day shift working.
Please ensure that you currently live within, or can relocate to, a commutable distance of the site.
Due to the blended nature of the study, you must be able to demonstrate a responsible and mature attitude to your study and work-based activities. Study time will form part of your working week.
Read More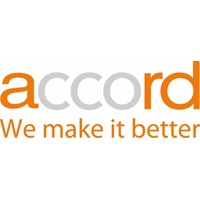 Location:
Barnstaple, Devon
Salary:
£15,000 per annum
Closing Date:
5th December 2023
Apply Now