Sometimes you need an external subject matter expert to help you navigate all relevant regulatory competence, compliance training standards requirements for COMAH / SEVESO III and major accident hazard operations
Sometimes you need a mix of training topics all rolled into one learning programme, and an 'off the shelf' course just isn't enough.
Sometimes you just don't have the time or in-house resources and need an external professional training production house to help develop it for you.
Cogent Skills is your external expert to help you.
Business Case outcomes for developing your own bespoke course (and delivered via the blended learning model) include:
Adapts easily to rapid change, remote working requirements.
Cost Savings on logistics and new hires.
Digital Transformation
Equality, inclusivity and accessibility of engagement.
Improvement of operational integrity and workforce productivity
Productivity improvements and worker welfare.
Regulatory Competence and Compliance.
Solves multi-site and cross-country logistics problems.
Suitable for Remote Workers or Emergency 'Stay at Home' orders.
To Read:
Business Case Facts for Developing Bespoke Blended Learning
What is it?
Bespoke Learning. Cogent Skills will merge your corporate training, branding, operational procedures and leadership messages with our industry leading training course content – resulting in an advanced corporate training programme, delivered by subject matter industry experts. You have a choice and can determine how much customisation you need! This can then be converted into:
Blended Learning. A dynamic and digital training programme, facilitated by subject matter industry experts via the virtual classroom. Using multimedia resources, industry case studies and animated lessons learned films – you get custom corporate branded training assets, multimedia content, plus professional corporate film production with voice-over artists to deliver your messages
Your business needs are specific, so the bespoke solution we create for you, will be as unique as your business. Wherever you are in the world you will receive course content which is:
Designed specifically for you – custom built
Developed from our training offering or using your own content
Delivered at time, method and location to suit your business needs
Your Bespoke Learning Opportunities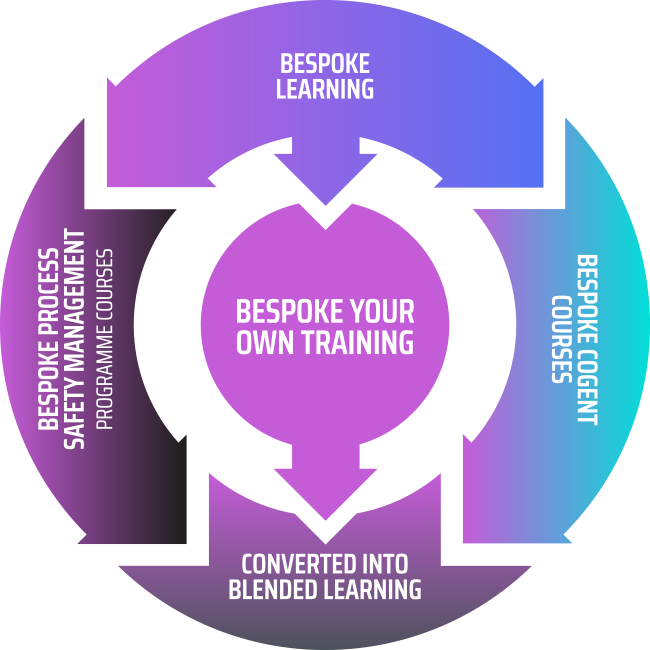 Bespoke Course Development Options
Bespoke Process Safety Management Programme
For updated compliance. Cogent Skills will develop a course specific to your industry and corporate needs.
We merge your corporate training standards, operational procedures and leadership key messages with exclusive, specialist Process Safety Management industry content and training standards – benchmarked to current COMAH / SEVESO III regulatory compliance requirements. The unique Process Safety Management industry content and training standards have been developed by the UK Process Safety Management Competence Programme Board and are ONLY available from Cogent Skills.
Bespoke ANY of Cogent Skills Courses
For advanced learning. Cogent Skills will develop a tailored training programme, specific to your industry and corporate needs.
We customise your training programme by merging your corporate training content – standards, procedures and leadership key messages with Cogent Skills course content. Our 3rd party industry expert training content has been developed by Subject Matter Experts and vetted by an expert panel, to meet competence and regulatory compliance requirements.
Bespoke your own training content
For stronger workforce engagement. A customised programme, where Cogent Skills develop, produce and upgrade your own corporate training.
We project manage, develop and produce your company specific training content – from Operations to Leadership, including procedures and leadership key messages. You receive an end-to-end bespoke learning and development solution, which includes Corporate branded materials, professionally produced films and voice overs, plus project and administrating management – to help drive measurable improvements in your business performance.
What do you get?
You will receive a professionally produced and customised training programme designed specifically for your industry sector, to help you to meet your corporate learning and development requirements. Benefits include:
Professional Admin Resources and Delegate Engagement. To organise all of your training project and event logistics
Bespoke Training Plan. Best practice content, combining your corporate training, leadership messages and exclusive industry training standards
Professional Grade Corporate Branded Materials and Workbooks. Improving your corporate training approach. You get your logo and business name on all custom developed training materials
Industry Recognised Case Studies and Animated Films. To share lessons learned, best practice and awareness of industry issues
Professionally Produced Corporate Training Films. With professional voice overs to provide explanations
Professional Project Management Resources. To oversee successful programme development