Ben Dove, Lab Automation Engineer at Pharmaceutical company AstraZeneca discusses apprenticeships and a career in digital technology.
Ben is a Lab Automation Engineer at AstraZeneca in Cambridge. He is an apprentice employed through Cogent Skills outsourced employment, currently in the second year of a four year BSc (Hons) Digital and Technology Solutions Professional Degree Level Apprenticeship, delivered by Anglia Ruskin University. We asked Ben a few questions about his apprenticeship journey so far:
Tell us about your job role at AstraZeneca
As a laboratory automation engineer, I am responsible for ensuring that automation and support activities advance the research objectives and mission of the R&D domain. I also work with scientists across R&D to analyse current laboratory practices and identify opportunities to use automation. Using 3D printing technologies also plays a large part of my job, as it is used for prototyping custom parts for systems and replacing broken parts.
Have you always been interested in pursuing a career in digital technology/automation?
I have always wanted to pursue a career in digital technologies. Computer Science was my favourite class, I coded in my spare time and the idea of doing what was a hobby as a full time job made me want to look into university courses which involved coding so I could improve my skill and knowledge and eventually do it full time.
What made you decide to take the Apprenticeship route rather than university?
I chose a degree apprenticeship rather than going down the university route as I learn new skills best through active learning, doing rather than listening or watching, and an apprenticeship offers this type of learning. It also offers the same benefits of going down the university route, but with no debt and I will have 4 years' of applicable experience once complete.
What areas are you studying as part of your university degree course?
My university course covers lots of different areas within digital technologies such as:
Software development
Network technologies
Web development
Object oriented modelling and Data
These support my learning at work and allow me to offer new skills to my workplace which they didn't have access to before, improving the experience of the lab users.
You have recently been recognised for your contributions through the Cogent Skills & AstraZeneca Aspire Award reward scheme. Tell us about your nominations and what this means to you.
Recently I have received a number of Aspire Awards for both my quick prototyping and printing of 3D printed solutions to resolve issues within the lab. As well as this I have supported the end to end rollout of a new automation platform in the lab. I am very thankful for receiving these nominations as it shows that my hard work is being recognised.
CAD drawing of the drip trays (below)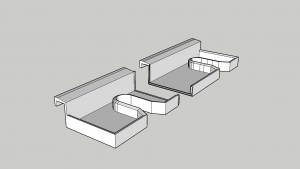 Final 3D printed solution (below)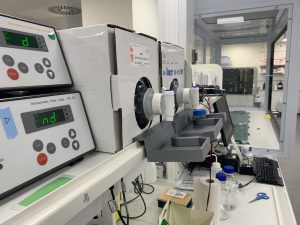 What advice would you give other young people interested in pursuing a career in digital technology/automation?
I would definitely recommend going into a career in automation or the digital technology sector. It's an industry which will always be in high demand as technology plays a growing part in everyday life.
What's next?
Once I have completed my apprenticeship, I will be looking at continuing with a full time position at AstraZeneca, or find similar job opportunities looking for individuals with a degree, and recognise the advantage of hiring someone who has already acquired a four years of applicable job experience.
Ben's manager, Christopher Brankin, Associate Principal Automation Engineer at AstraZeneca added:
Ben's passion for automation, programming, micro-pcs and 3D printing is clear to see by all who have worked with him. Through the application of his university courses, in-house training and his can-do attitude he is now seen as the lead engineer for a new automation platform. Experienced scientists now deal directly with Ben. He is able to offer programming advice, face to face training in the lab space and invent novel solutions to unmet needs using the 3D printers. We can now not do without him. I would recommend anyone to consider taking on an apprentice. There is not only a personal reward to be gained from watching him develop but also huge value added to the business which has been recognised through his Aspire Awards.