Don't miss British Science Week 2021
British Science Week is a 10-day celebration involving thousands of individual events running throughout the whole of the UK. The aim is to recognise the impact of science, engineering, technology and maths. There are no restrictions on who can organise events, the topics, the audience or the venue. The result is a hugely varied event with an eclectic mix suitable for people of all ages and abilities.
This year British Science Week runs between 5 – 14 of March.
British Science Week is coordinated by the British Science Association and is funded by the UK Research and Innovation. The purpose of British Science Week is to raise awareness, spark enthusiasm and celebrate science, engineering, technology and maths with people of all ages and from all walks of life.
British Science Week also aims to breakdown the stereotypes surrounding science as a career path. One way this is being tackled is through the #SmashingSteroetypes Campaign. As part of this campaign Dr Michael Pascoe, a Postdoctoral Research Assistant, opened up about his personal barriers entering the world of science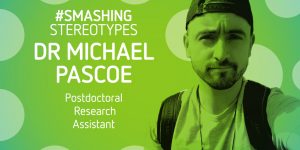 The biggest barrier I had entering the STEM world was believing in myself. Secondary school was quite difficult for me as a teenager. I was still finding out who I was and being gay wasn't as accepted back then as it is now. Once I came out, it felt like a weight had been lifted off my shoulders and I could be the person I was meant to be. I enjoyed school much more after that and could finally concentrate on studying.
Despite having what he saw as an additional barrier to enter the world of science Michael pursued his goals and became a microbiologist. He offered the following advice:
If there is one bit of advice I have for students, it's that STEM careers can be really rewarding. You get to meet lots of different people from around the world and have unique opportunities which you don't get in other fields.
To read the full #SmashingStereotypes article from Dr Michael Pascoe click here or see the full list of personal stories 
As part of British Science week we decided to asked Nick Durrington, Managing Director of Cogent Skills Apprentices and Graduates, about his thoughts on the British science industry:
The British science industry is vast and covers everything from petro chemicals and energy to pharmaceuticals and medical devices. Cogent Skills are proud to work with inclusive science employers who really value equality and diversity in their workforce, who help to develop and make the products of the future. With the prominence of science companies based in Briton championed on the world stage through the development of Covid-19 vaccines, there's never been a better time to look at an apprenticeship in a British based science company.
To find out what events are running throughout the event this year click here 
You can also follow and get involved in the conversation around British Science Week 2021 by using #BSW2021 on social media