Workers in Ukraine high hazard industries are now being confronted not only with process-related hazards but also with other previously unexpected risks due to the terrible impact of the conflict and damage to critical infrastructure, including power generation, roads, railways and key manufacturing sites.
While funding has been diverted away from industry to the Ukrainian military, safety professionals around the world have offered resources and equipment. What's more, workers have reported PPE wearing out faster than it would during peacetime given the increase in activities such as clearing rubble from damaged or demolished buildings, for example.
Taken together, all this presents a challenge to Ukrainian process safety professionals which is unprecedented in its scale and complexity.
As a not-for-profit skills organisation and leading provider of process safety services, Cogent Skills is proud to support high-hazard industries in Ukraine by donating resources, expertise and course materials, and working with a range of partners to deliver online Process Safety Management Awareness programme based on our successful existing programme.
The project is a collaboration with UK-based Health and Safety Consulting Ltd and Netherlands-based OGC Process Safety BV to deliver the course, which is also being supported by the European Society of Occupational Health and Safety, and the Help Alliance for Ukrainian Workers.
Partners committed time and materials free of charge and set about developing a bespoke session on process safety and securing the necessary funding so that the course could be promoted and delivered at no cost. Sponsorship was secured from all three partners to ensure the course is accessible to as many workers as possible.
The Help Alliance for Ukrainian Workers has collated resources and expertise from across the world, with the support of the ILO. While the Alliance has been able to produce a number of webinars on basic risks, process safety was not covered as it is largely a new area for Ukrainian industry and is not treated as a separate discipline, despite many hazardous industries across its economy.
Professionals in the country have welcomed this increased focus on process safety particularly during wartime when risks for operating sites and facilities have increased dramatically.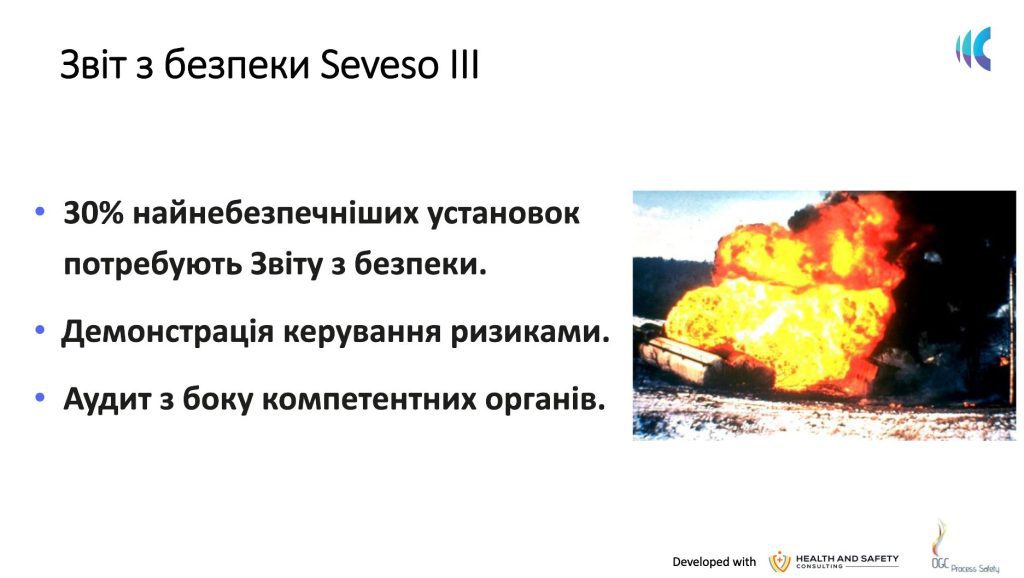 Having volunteered to help deal with the humanitarian fallout of the war in Ukraine, I have seen the impact on people first-hand. From there, I wanted to use my professional background to help my fellow health and safety professionals deal with the increased hazards they face due to the conflict. Taking this from a wild idea on a Sunday afternoon to realising it the space of a few months has been very rewarding. I hope our peers in Ukraine will find the course helpful in establishing safer plant operating practices not just while the war continues but after it ends – which, of course, I hope will be very soon.

Netherlands-based consultant Roel van Veen, of OGC Process Safety
We're really proud to contribute to this project and offer our expertise, which will ultimately result in a more confident workforce and safer work environment across a range of industries in Ukraine. Over the last 21 years, Cogent Skills has worked for the good of the industry across the UK and we felt it was only right that we worked with our partners to support workers in Ukraine who face an unprecedented set of challenges.

Justine Fosh, CEO of Cogent Skills
Unfortunately, for many years industry in Ukraine didn't focus enough on process safety – until the war entered our homes and our workplaces. However, since the start of the conflict we have come together to work to common goals much more than we did before, and we have put a much greater emphasis on helping people work safely.

It's invaluable that Cogent Skills chose this topic for the training because, in times of war when risks for operating enterprises multiply, it is very important to manage them consciously. I hope this course will help professionals across Ukraine keep workers safe while we deal with this incredibly difficult time.

Olga Bogdanova, of the Help Alliance for Ukrainian Workers
The opportunity developed by Roel and Olga to support this worthwhile initiative is very welcome and timely – increasing awareness and understanding of process safety benefits us all by reducing the likelihood of major process safety accidents in the future, which have a devastating impact upon so many.

Ashley Haslett, of UK-based Health and Safety Consulting
For more information on the Help Alliance for Ukrainian Workers, visit: https://helpuaworkers.com.